By Miles Skeleton Review
Hello. This document is designed to help you give a rounded view of the pay-per-mile product By Miles.
The following guide and the content it holds may only be used if your application to the By Miles Referral Programme has been accepted.
If you want to change the text or language to suit the style of your website, please get in touch so that we can approve this before you use it.
Of course, use of the following is subject to the Referrer Guidelines and the By Miles Referral Programme Terms and Conditions.
Please note that you can't use any text, content or images from the By Miles website or app without our prior written permission.
The level of insurance cover that we offer, user ratings and awards do change over time, so please ensure you clearly date all reviews.
---
The following information is correct as of 14 July 2020
About By Miles.
By Miles offers pay-per-mile car insurance. All policies are fully comprehensive. They aim to offer competitive car insurance prices to those people driving less than 7,000 miles a year.
Get a quote, quickly.
Want to find out if pay-by-mile could work for you? The quick quote tool from By Miles will give you an idea of what your price might be in under a minute (based on making a few assumptions)
If you like your quick quote price and if you think pay-by-mile might be worth exploring further, just complete the rest of your details in the application to get a full quote.
Check out the By Miles website here.
[Note to Referrers - please update the above link with your tracking link]
How does By Miles work?
The By Miles concept is simple. By Miles thinks that the less you drive, the less likely you are to make a claim - it's hard to have an accident when your car's just parked outside your house. So on a pay-by-mile policy, the less you drive, the less you pay.
By Miles splits the cost into two parts:
1) You pay a fixed annual cost up front to cover your car while it's parked. This is paid at the start of the policy, then
2) You just pay for the miles you drive each month, a bit like a credit card statement or mobile phone bill.
An example of a By Miles quote.
By Miles will give you a quote based on a range of questions about your car, personal details and driving history, and they'll ask your estimated mileage for the year so they can give you an idea of how much it might cost you over the course of your policy e.g.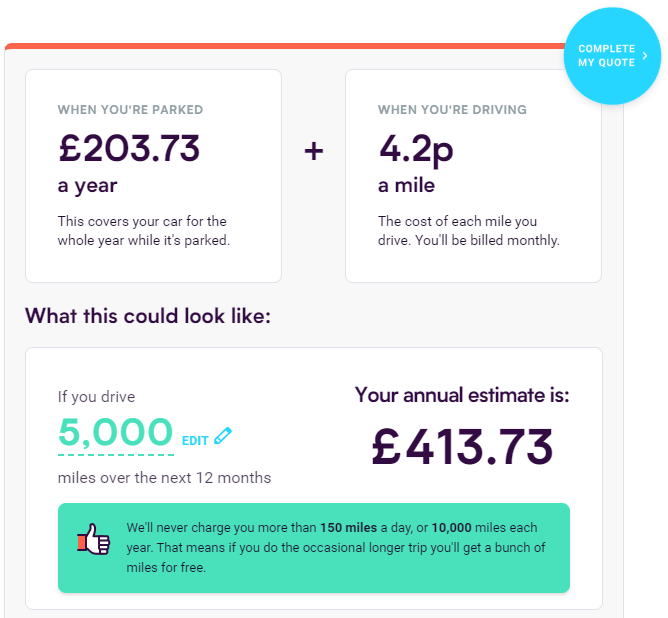 So if you got the above quote and then drove exactly 5,000 miles over the year your car insurance would cost you £413.73.
The annual estimate of £413.73 is just the upfront fee of £203.73 and the total estimated mileage cost added together.
The estimated mileage cost = your estimated miles x your per-mile rate (5000 miles x 4.2p/mile = £210.00).
i.e. annual estimate = £203.73 + £210.00 =  £413.73.
It's important to note that the estimate is just a guide.  You only pay for the exact number of miles you drive each month.
No penalties for driving more (or less) than your estimate.
It's tricky to predict your exact annual mileage. The By Miles policy is pay-as-you-drive, so you just pay for the miles you drive (and not the miles you don't). To be clear, there's no penalty for driving more or less than your estimate.
Drive as much or as little as you like. If you drive a little more than you guessed, you'll pay a little more. If you drive less, you'll pay less.
E.g. continuing with the above example:
a) If you drove less than your estimate (e.g. 4,500 miles), then over the year you'd pay the same upfront fee of £203.73 + (4,500 miles x 4.2p per mile) = £203.73 + £189.00 = £392.73.
b) If you drove more than your estimate (e.g. 5,300 miles), then over the year you'd pay the same upfront fee of £203.73 + (5,300 miles x 4.2p per mile) = £203.73 + £222.6 = £426.33.
c) If you didn't end up driving at all (e.g. 0 miles), then over the year, you'd just pay the same upfront fee of £203.73 + (0 miles x 4.2p per mile) = £203.73 + £0 = £203.73.
By Miles - using technology to help customers.
By Miles charges according to "how far you drive" and not on "how you drive" and your per-mile rate doesn't change over the life of your policy. There's no driver scoring and no penalties or price changes if you break or accelerate a bit too hard.
They don't report any speeding to the police (at least, not without a court order).
There are no curfews.
You don't need an engineer to fit the Miles Tracker. Before you buy, they check your car's compatibility (most cars made in the EU after 2002 are). After you buy a policy they send you a Miles Tracker in the post (it's about the size of a match box) and you simply plug it in yourself. If you have any trouble just give them a call and they'll talk you through it.
Some makes and models don't even need a Miles Tracker
With certain makes and models of newer cars, you won't always need a tracker.
By Miles launched the world's first connected car insurance policy i.e. the first policy that uses data directly from the car to work out the cost of the insurance.
E.g. you can link your Tesla account to By Miles and so the miles you drive are automatically sent to By Miles from your mileometer.
Lowering the cost of car insurance without compromising on quality.
By Miles policies are fully comprehensive and come with:
The flexibility of monthly payments with no added interest rate charges - most insurers charge you high credit card-like interest rates when you pay monthly.

With By Miles, once you've paid your upfront fee for the year, you just pay for the miles you drive at the end of each month. That's it. There are no interest rate charges.

This also helps you spread the cost of your insurance rather than paying it all at the start of your policy.


Capped mileage costs - you can drive as much or as little as you want. To help when you drive more:


Daily mileage costs are capped at 150 miles, so the rest of your miles that day are free once you've driven more than 150 miles.
Annual mileage costs are capped at 10,000 miles, so the rest of your miles are free once you've paid for 10,000 miles in a year.


E.g. if you go for a long drive of 250 miles in a day, then you remain fully covered but you are only charged for 150 miles for that day.


No admin charges on your first 3 policy changes each year - most insurers charge you admin fees when you need to update your policy e.g. because you've moved house, changed car, added a person to the policy etc. By Miles don't charge admin fees on your first 3 changes each policy year.

Note the price of your fixed annual cost and per-mile rate could still go up if e.g. you move to a higher risk area or it could go down e.g. if you get a cheaper car.
Car insurance and then some.
No Claims Discount protection included as standard - even if you make a claim your No Claims Discount won't go down
Courtesy car while your car is being repaired
90 days fully comprehensive overseas cover (in any EU country)
UK claims line open 24/7
Also included as standard are: Uninsured driver cover (your NCD will be protected and you won't pay an excess), misfuelling cover, replacement key cover, personal belongings cover, windscreen cover and personal accident cover for the main driver and their spouse.
What's the catch?
A By Miles policy won't suit everyone. They currently only offer:
Annual policies - there's no option for short-term insurance/temporary cover
Car insurance for people living in England, Scotland and Wales
Also:
Policies are mostly designed for 25 to 76 year olds and so it's difficult to get cover outside this age range - having said that they will cover people as young as 21
If you end up driving more than you estimated, you'll end up paying more.
They won't be able to offer you insurance if they don't think your car is compatible with their Miles Tracker (most cars are compatible).
While they cover most people, there are a few other restrictions, these are mostly around people with higher risk profiles e.g. very expensive or high powered cars or people with many claims or convictions.
Some insurance policies let you drive another car in an emergency. By Miles doesn't include this. However if you are going to be borrowing someone else's car, it might be worth making sure you have fully comprehensive cover rather than third party only cover, in case you crash it.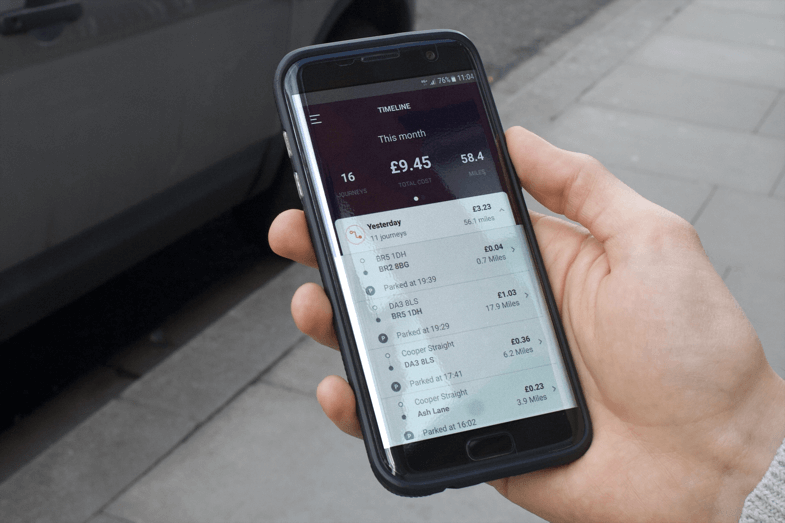 The app.
You don't have to use the app but it's free with your policy and has some handy features:
Statements - stay in control of your spending with transparent itemised monthly statements - these are also available online
Individual journey details - keep track of your trips with maps for each journey
Find My Car - remind yourself where you've parked in car parks or get help tracking your car down if it's stolen
Car Medic - carries out a quick scan of your car's engine codes to check for problems
Helpful warnings about potential fines - so you don't accidently get caught out and end up with a fine- the app will warn you if you've driven into the London Ultra Low Emission Zone (ULEZ) and other places where you might incur a local tax or fee like the London Congestion Charge, Durham Congestion Charge and Dartford Crossing too.
Awards, accolades and ratings.
A history of By Miles.
By Miles is backed by a few names you might recognise.
Find out if pay-per-mile could work for you.
To find out more about By Miles and if pay-by-mile car insurance could work for you click here.
[Note to Referrers - please update the above link with your tracking link]
---
Read more:
---