By Miles Referral Programme FAQs
---
Q) Who can refer people to By Miles?
A) You wouldn't introduce someone to your mates if you didn't think they were a good egg. That's the exact same principle we use with our referral programme. We review all applications to join the By Miles Referral Programme to check they are suitable and align with our values of simplicity, transparency and honesty.
Minimum requirements include:
You must be a company or individual over 18 years old
You must be running an active website or app
The majority of the content on your site/app should be appropriate, i.e. based around insurance, personal finance or cars. If your site is soley focussed on topics that aren't related to car insurance (something like cooking, gaming or sport, for example) then the chances are we'll decline your application. While we appreciate you may have a fantastic website, if our product isn't relevant to your users then it won't be appropriate for us to work together. Sorry.
(Also see the FAQ on cashback, voucher codes and offer sites).
Before approving your application, we'll check how you write about other products. All the information on your website/app should be clear, fair and not misleading. We'll use this to gauge how we think you'll write about By Miles.
Your site should be focused on the UK (we currently only offer policies to people living in England, Scotland and Wales, so it makes sense for us to stick to that).
---
Q) How can I become a partner / affiliate / broker / referrer?
A) Before applying please read "Who can refer people to By Miles?"
You can apply to be a partner / broker / affiliate / referrer here.
We aim to review all applications within 2 working days, but it's usually quicker.
---
Q) How does By Miles car insurance work?
A) By Miles is a bit different to other car insurance products. To help, we've written a skeleton review of By Miles here.
The skeleton review is designed to help you keep the facts straight, but also highlight where a By Miles policy isn't suitable. In short, if you drive more than 7,000 miles a year then you might be better off elsewhere.
Approved Referrers can use the skeleton review on their site.
If you're looking for some detail on a specific aspect of our policy, then take a look at the FAQs we've written for our customers here: http://help.bymiles.co.uk/
Please don't copy, plagiarise or adapt these customer FAQs or any other By Miles content without prior written permission.
---
Q3) How do referral commissions work with offers and promotions?
A) We believe that the unique nature of By Miles and our pricing make us competitive without the need for any cashback/credit/voucher/offer incentive.
Important - if you decide to direct customers to a By Miles offer, then the cost of that offer will be subtracted from any commission.
Please contact the Referral Programme if you're looking to add a By Miles promotion to your site.
Also see:
---
Q) Does By Miles work with cashback, voucher code and offer sites?
A) Sorry, we don't normally work with cashback and voucher code sites or sites that are predominantly offer based.
We think our fairer kind of car insurance is pretty competitive already, without the need for cashback, vouchers, offers, credit or anything like that.
We have trailed such offers in the past but stopped because:
i) We work on cookie tracking and a 'last referrer wins' principle. When it came to testing cashback and voucher code sites, our data highlighted that the majority of users only looked for an offer/voucher code after they found us another way and had already completed a quote.
As such, we felt the "true sources" or "true referrers" of policies weren't being rewarded.
ii) It's important for us to maintain a high standard of customer service and for the Customer Support team to use their time helping customers questions about their car insurance.
We found cashback / voucher code enquiries used up a lot of time supporting potential customers.
iii) We found offers we being spammed - despite this being clearly against our terms and conditions.
iv) We found third-party offers were not being kept up-to-date and this caused frustration for potential customers and used up further time, time our support team could better spend with our members or other more serious queries.
Also see:
---
Q3) Can I refer myself or use the refer-a-friend offer?
A) For the avoidance of doubt, if you're signed up to the Referral Programme:
You can refer yourself and we'll pay the CPA for that (max 1 CPA per year for referring yourself).
You can't claim any part of a refer-a-friend offer.
Also see:
---

Q3) What are the Referral Programme payment terms?
A) We offer a tiered CPA (Cost per Acquisition aka Cost per New Policy) commission:
Referred policies
per year
CPA commission
per referred policy
100+
£45
50-99
£40
0 to 49
£35
To put it simply, offering competitive pricing to customers means lower margins, so it's a slightly lower CPA than you may find elsewhere.
Having said that, our car insurance prices are designed to be competitive for 30% of UK drivers. We don't know of another car insurance provider that can say that.
Looking to referer 500+ policies? If you're a highly experienced referrer and it looks like you'll refer more than 500 policies per year - please get in touch.
Revenue share - Due to the nature of a pay-per-mile policy and needing to store commission calculations on 10s of millions of different journeys, we don't currently offer a revenue share model.
---
Q) Stats and reporting - What reports/stats/data can I access via the referral platform?
A) There are a variety of report based around clicks, sales and how many times banners have been shown.
Once you've logged just go to "Reports" in the left navigation bar:
1) "Reports" > "Quick Stats" that will give you clicks and sales.
2) Want more detail during early tests? Just go to "Reports" > "Click list" – these stats update within 1 minute of the click.
3) Want more detail on Commissions? Just go to "Reports" > "Commissions".
This will give you a breakdown of commissions and when they were triggered.
Click the "Filter" icon if you'd like to dig further or apply filters for date ranges.
Also see "How to get reports via email".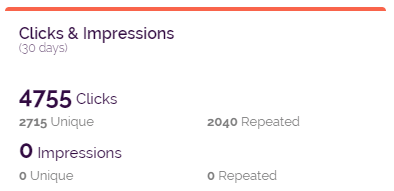 ---
Q) Stats and Reports - How to get reports via email
A) You can get daily, weekly and monthly reports on clicks and sales.
Just log in and go to "My profile" (left navigation bar) > "Email Notifications". From here just (un)select the relevant reports.
There's also the option to set an email for each new policy you refer.
Just go to "My profile" > "Email Notifications" and tick the box next to "On new sale/lead".
---
Q3) Where can I read the referral programme terms and conditions?
A) You can read our Standard Referral Agreement here.
If you are an FCA regulated entity and/or have completed the By Miles due diligence process then we can apply the Short-form By Miles Referral Programme Terms & Conditions which you can read here.
---
What are/where are the Referrer Guidelines?
The Referrer Guidelines are designed to help you promote By Miles as per the guidelines set by the Financial Conduct Authority.
You can read the Referrer Guidelines here.
---
Read more:
---