When it comes to getting value for money from your motor, it's not always about how much you drive, but where you drive. We've analysed a whole bunch of UK postcodes and found that the expensive place to own and drive a car (insurance costs included) is London, closely followed by Manchester.
We've analysed 2.7 million car insurance quotes from comparison website MoneySuperMarket, and accounted for the depreciation of a new car and other essentials like fuel costs, car tax and MoT charges.
The data reveals that drivers in Greater London are effectively forking out an average of 58p for every mile they drive, 32% more than the cheapest area, Galashiels in Scotland, where motorists pay just 44p per mile.
It goes to show that motorists in London are getting the least value out of their cars. It's mostly down to the soaring costs of car insurance and fuel in the area, coupled with the fact that they don't drive as much.
Locations with the highest cost per mile: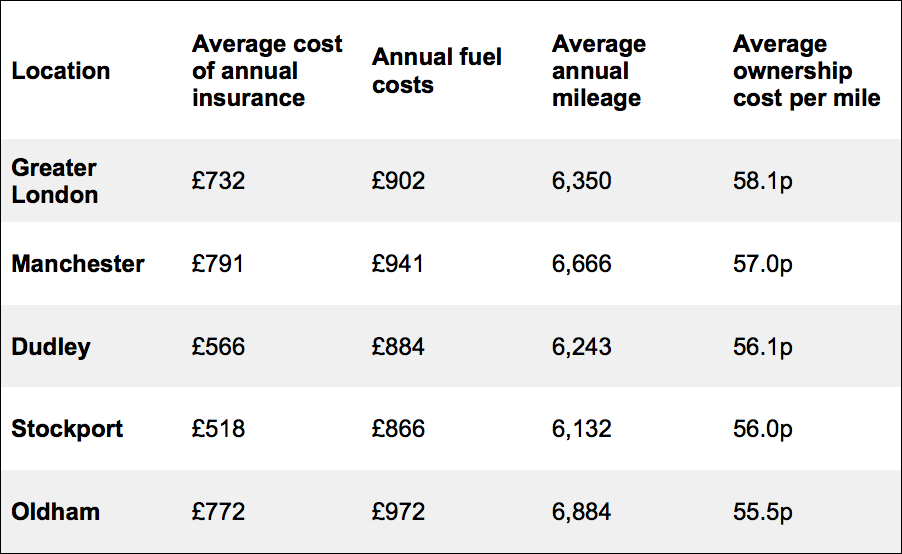 Locations with the lowest cost per mile: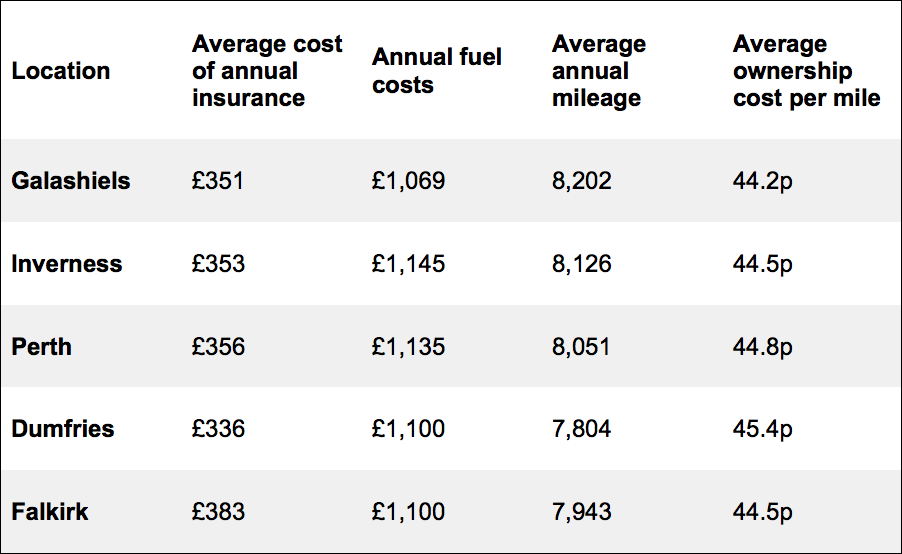 Why are some UK drivers paying more per mile than others?
The biggest regional factors that impact the cost of car ownership in the UK are:
The annual cost of car insurance
The number of miles driven per year
The fuel prices
In fact, we found that residents of the five areas with the highest ownership cost per mile – Greater London, Manchester, Dudley, Stockport and Oldham – all drive under 7,000 miles per year, compared to the bottom three (Galashiels, Inverness and Perth) whose residents all drove in excess of 8,000 miles per year. The cost of fuel doesn't help either. Motorists in London paying nearly a pence more per litre of petrol than drivers in Scotland.
This trend continues for car insurance costs. Those paying the lowest ownership cost per mile saw car insurance prices as low as £351, while those at the top stretched to £979 in the East London (E) postcode.
In light of this, we're calling on low mileage drivers (those who drive less than 7,000 miles a year) to take control of their per-mile costs by switching to a more flexible pay-by-mile car insurance policy.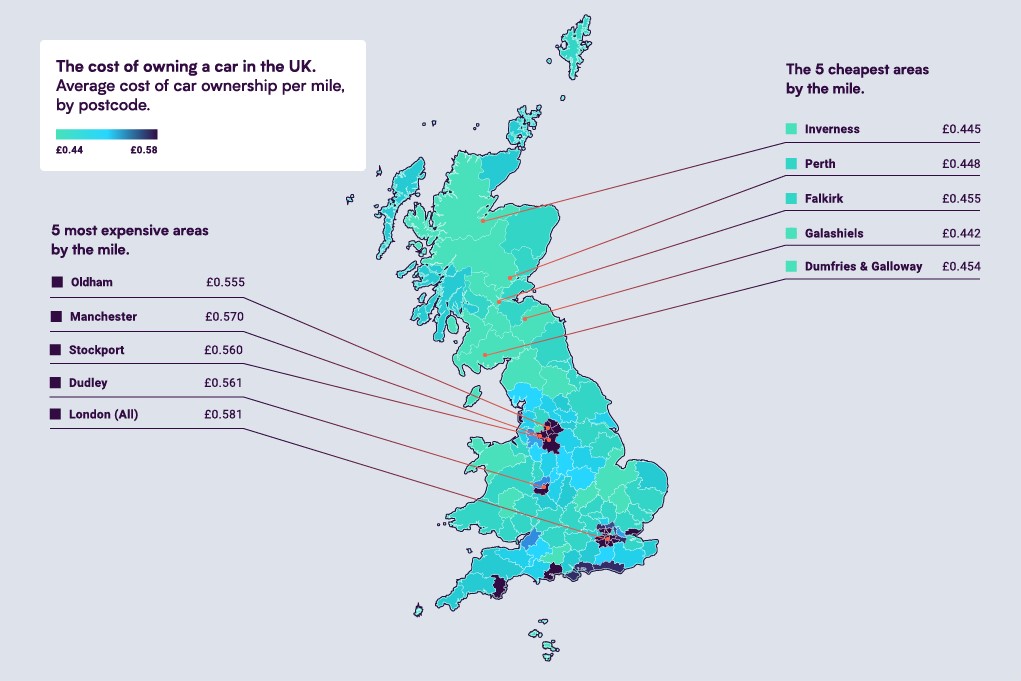 James Blackham, CEO of By Miles commented:
"Our analysis shows that when you take all your motoring costs into account, your postcode can play a big part in how much you pay for every mile you drive. And those who drive the least are suffering most.

While drivers in London, Manchester, Dudley and Stockport may feel cheated when they see how much they're paying compared to other parts of the country, there are things motorists can do to reduce how much they pay.

Shop around to make sure you're getting the best deal for your car insurance, and if you drive under 7,000 miles a year, a pay-by-mile car insurance policy could offer a more flexible way to insure your car."
Tom Flack, Editor-in-Chief at MoneySuperMarket commented:
"It's in our DNA to help drivers find the best deal on their car insurance, so it was a no-brainer to offer pay-by-mile car insurance.
"It's always been important to shop around to make sure you're getting the best deal. That now includes looking at new technologies that offer drivers increasingly flexible ways of insuring their cars – particularly for those in who live in disproportionately expensive areas like London and Manchester."
Three tips to help you save on your car insurance to help keep your car on the road:
1. Think about how far you drive
Before buying car insurance, think carefully about how far you really drive in your vehicle each year. Our research shows there are 19 million low mileage drivers in the UK driving under the average of 7,134 miles a year, and they're being overcharged for their car insurance. By ensuring you accurately estimate your mileage or switching to a pay-as-you-drive car insurance policy, you could potentially save hundreds of pounds per year.
2. Shop around for a good deal
Letting your car insurance auto-renew is a sure-fire way to miss out on potential savings – and unfortunately around 8 million people each year do just this.
Shopping around is a simple but effective way to reduce your costs, because sadly insurers rarely offer the very best deals to their existing customers. There are some exceptions, though: our best price promise means you'll always get the same price from By Miles whether you're a new or existing member.
3. You CAN cancel during your contract
Most of us know you can cancel a contract during the 14 day cooling off period after you buy. But many people don't realise that you don't actually have to wait until your renewal date to find a better deal, you can usually cancel and switch your insurance policy at any time. You just need to ring up and ask. You'll normally need to pay a cancellation fee, but after that most insurers will give you a pro-rata refund of any insurance months you haven't used.
Before taking the plunge, we advise checking your policy for any cancellation fees attached to ending early and hopefully the savings of moving outweigh the cost of cancelling.
Not started a pay-by-mile policy yet? Get a quick quote in under a minute by clicking here.