We set out to uncover whether those from poorer UK households were being disadvantaged by the current car tax system, and the results of our research are pretty damning. Learn why we think pay-by-mile road tax is the way to go.
The UK's current flat rate car tax model is unfair. It's that simple.
It's something we've been talking about since the very beginning at By Miles, but we wanted to find a way to prove it. So we set about analysing data from the National Travel Survey (NTS). For the unfamiliar, the NTS is a household survey of personal travel by habitants of England travelling within Great Britain, which has been regularly collected by the Government for over 50 years.
We teamed up with with experts from The University of Manchester to conduct the study, and we found that:
Lower income households in the UK drive 40% fewer miles than the highest income bracket.

The UK's highest income households drive 4x further than the lowest income households.

15% of households in the lowest income group own a new car (registered in the last three years), compared to 28% from the highest-income households.

Only 22% of drivers from low income households pay the cheapest tax bands (A-C). In the wealthiest group, this rises to nearly 30%.

Low income drivers are taxed over double per-mile than more wealthy road users (10 pence vs. 3.2 pence per mile)
Download the full report by clicking here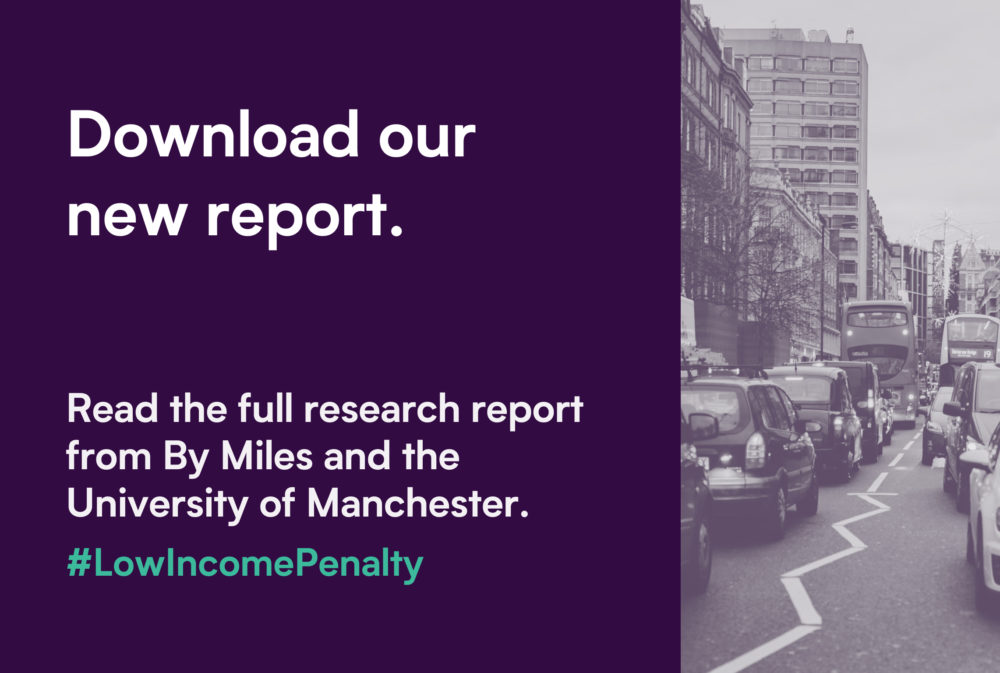 We don't think it's controversial to suggest that those who use our roads the most should pay a proportional share for how much they use them. It makes sense to pay more if you create more congestion in our towns, and cause more wear and tear to our roads.
Clearly, those driving more will also produce more emissions. This became all the more important recently, following IPCC's report and the UN's 'code red' verdict on human-induced climate change. Something needs to change. As a society we've already caused irreversible damage, but it's not too late to change our personal behaviours to limit future impact.
We've campaigned for fairer treatment of UK motorists since before our launch in 2018, and this isn't the first time we've taken aim at car tax. We've been petitioning Grant Shapps to introduce pay-by-mile car tax, and recently submitted a detailed proposal to the Transport Committee on how a pay-as-you-go model could be introduced. During lockdown, we also encouraged insurers to partially refund premiums while people weren't driving. 
We firmly believe that a pay-by-mile car tax is the only fair and just solution. This could be easily calculated at MOT and paid annually.
Our key recommendations.
Replace VED (car tax) and Fuel Tax with a pay-by-mile tax system
Create a road tax system that not only takes into account the emissions and weight of the car, but also the number of miles travelled, replacing VED and Fuel Tax. This system would offset the penalty paid by the low-income households who travel less. Road pricing is the best alternative to support the need to replace tax revenue from Fuel Duty (we further point out that VAT is also paid at 20% on fuel), which would otherwise be lost.
Establish a pay-by-mile road tax that is used to improve roads
Car tax should be ring-fenced and actually spent on improving our roads – not just for drivers. This revenue is vital to fund the maintenance and building of our road network, and could also be used to improve public transport infrastructure or support the transition to electric vehicles, which would also benefit households without a car.
Apply the pay-by-mile tax at time of MOT, based on actual mileage driven
This will be a low tech and straightforward way of levying the fee and could be applied as a per-mile rate once annual mileage is recorded. Drivers from low income households who travel a lot still travel less than those in more affluent ones, so are unlikely to be penalised by a pay-by-mile model. The so-called rebound effect (i.e. increase in vehicle fuel efficiency leading to more car travel) is likely to be smaller for low-income households, when compared with more affluent ones.
Further incentivise lower income households to replace their cars with more efficient models
Provide incentives for low-income households, especially those in forced car ownership (e.g. where there are few public transport services available or it is unsafe to walk and cycle) to replace their cars with newer and more efficient ones. This can be done based on the existing Motability Scheme for those in receipt of a qualifying mobility allowance.
Sign our petition for a fairer, greener, pay-by-mile tax.
We urge the Government to adopt a fairer approach for lower mileage drivers, charging and taxing motorists for the miles they actually drive and rewarding those who drive less. This new model would not only save lower income households money, but reduce congestion and emissions – which will benefit all road users, however they choose to travel.