While the words 'Deal' or 'No Deal' are being uttered more in parliament than you'd expect on a Noel Edmonds game show, you need to be prepared if you're planning to drive in the EU after 31st October 2019.
This article was last updated at 09:00 on Tuesday 8th October 2019, so advice has since changed. If in doubt, please be sure to check official Government advice here.
Firstly, what's the latest with Brexit?
You could be forgiven for thinking MPs are playing a game of the hokey cokey with the EU in current Brexit negotiations. While the situation is changing all the time, here's the latest scoop (as of 8th October 2019).

Boris Johnson has put forward plans for a last-ditch deal with the EU, in the hope that he could fast-track negotiations in order to reach an agreement by the deadline of 17th October. If this doesn't happen – which seems unlikely given the latest reports from Brussels – then Johnson is legally obliged under the Benn Act to ask for an extension to Article 50.
In the event that a deal isn't agreed and an extension isn't granted, the UK will leave the EU without a deal on October 31st.
So, what happens if we leave the EU with no deal?
Right now, the UK is a member of the EU's 'Free Circulation Zone', which means UK insured drivers automatically have the minimum compulsory insurance in all of the European Economic Area plus Serbia, Switzerland and Andorra, and don't need to carry a Green Card.
This could change on 31st October 2019 though. The Department for Transport have stated that leaving the EU with no deal (which seems increasingly likely) means that if you drive outside the UK to the above countries, you'll need to take a Green Card with you, to prove that you have valid insurance.

What is a Green Card?
A Green Card is evidence of motor insurance cover for when you're driving abroad. As the name suggests, it's printed on a green piece of paper and shows which countries you have valid insurance for.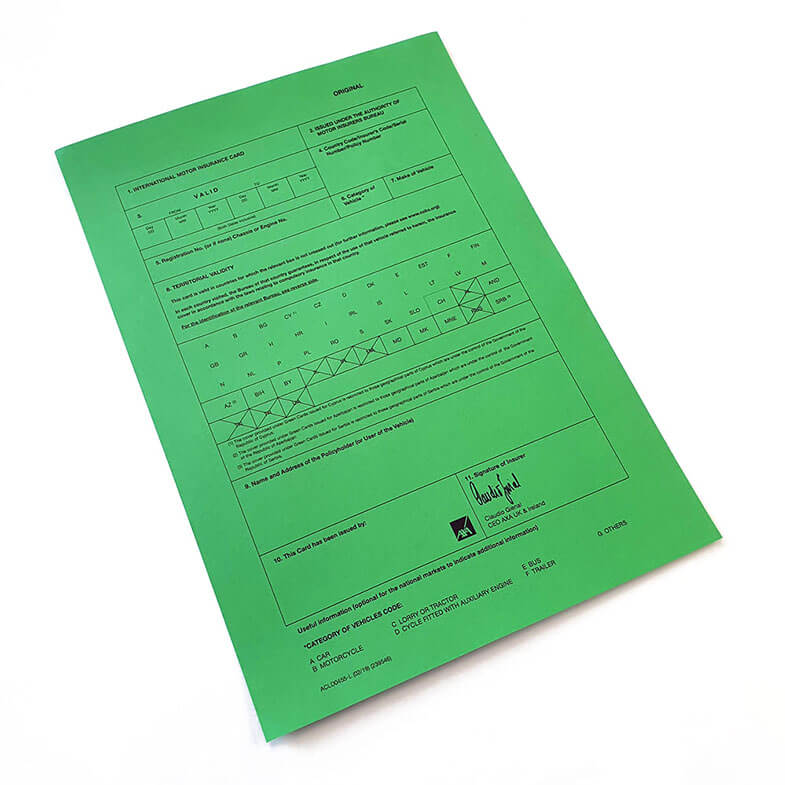 The Council of Bureaux (who administer the Green Card across the EU) still insist on drivers having an actual physical green card or piece of green paper with the certificate on, which means that you can't just keep an electronic copy with you.
What are By Miles doing about this?
Our members will soon be able to download a Green Card for the car they have insured with us straight from their By Miles app or web dashboard, so they can print it out on some green paper at home. We hope this'll help out some people in a last minute rush to sort their holiday packing list.
If you're driving your car abroad imminently and you're a By Miles member, just give us a call or send us a message using the live chat in your app. We'll be able to help you get one printed out and sent to your home address.
If you're with another insurer, you'll need to get in touch with them and request a Green Card. Make sure you leave plenty of time to apply for one, as some insurers are saying they'll require up to a month's notice.
Anything else?
Yes. As with driving in the UK, you should make sure all the usual stuff (MoT, tax, insurance) is up to date. If your insurance policy will renew while you're abroad, then you need two Green Cards (one for each policy).
You should also remember to carry your vehicle registration documents, and check if the countries you're driving through need any other special items added to your kit list - like a breathalyser, which is a legal requirement in France. If you're going to be driving your car in the EU for less than 12 months, you need either your vehicle log book (V5C), or VE103 with you. This should show your most recent registered home address.
Again, it'll pay off to be well-prepared - it can take up to six weeks to get one of these if you don't have it to hand, so get it done today.
Still not switched to pay-by-mile? Get a quick quote here.