Any brand can waffle on about fairness (and an awful lot of them do). So in this blog, we're going all facts, no fluff. In it, we'll run you through what we're doing to make things fairer for: 
Our members.
We do our utmost to treat our members fairly in everything, from the way we communicate to the innovative way we price our policies. Which raises a very important question:
Why is pay-by-mile car insurance fairer?
Being charged more to drive less is rubbish. No two ways about it. Yet that's traditionally what's happened to car insurance customers. In 2020, we analysed close to 2 million quotes and found that: 
People driving under 7,000 miles a year were being charged £180 more for car insurance than those driving over that.

Though 5,000 – 6,000 miles a year was the most commonly declared mileage, those drivers were paying £215 more than drivers doing 11,000 – 12,000. 

These higher mileage drivers were actually

more

likely to claim. Not by a little bit either – by 50%. 
We call this the Low Mileage Penalty and you'll find our full report on it by clicking that link (especially worthwhile if you're a visual person or just a big fan of graphs).
It's not fair, we don't like it, and we want it to end. Which is why we pioneered pay-by-mile car insurance. With us, you pay a set amount to cover your car while it's parked, and the rest is based on your actual mileage. 
According to the latest available MOT data, the majority of people drive comfortably under 7,000 miles a year. On top of that, we know that the cost of living crisis is causing people to cut down on how much they use their car. That means an awful lot of people could be getting a fairer car insurance deal by going pay-by-mile. 
Lockdown was a perfect example of this. Our members were automatically saving while they weren't using their cars. Other insurers had to be hassled into compensating their customers, and 82% of people didn't get any kind of refund on their insurance if Covid stopped them using their car the expected amount. 
Of course, there's more to fair car insurance than price…
We keep things clear.
When you act fairly, there's nothing to hide. It's why we write our policy documents in plain English (we even won an award for it). This way our members can know exactly what they're getting, without needing to learn a bunch of annoying insurance jargon. 
If members need anything, they can call our multi-award winning Customer Service team (here in the UK), or chat to us online.
We're always clear on price – not just at renewal either. Our app makes it super easy for members to keep an eye on their costs. In fact, using our Journey Planner feature, they can figure out the price of a journey before they even make it.
We're flexible.
We do our absolute best to offer a great price. But even so, unless you've really got it made (well done, if you do) car insurance is a big expense. For some people, it works best to pay monthly. Some like to split it out. Some prefer to pay everything upfront, get it out of the way and then collect a refund at the end of the policy if they drove less than expected. Any and all of the above is fine with us. 
We don't do guessing games.
We're not the only pay-by-mile car insurance out there, but we're happy to say we think we're the best. Part of the reason for that is that we don't play any silly games when it comes to pricing. 
There are no fees if you go over your estimated mileage. You can drive double your estimate if you want (or any other amount). Unless you change your policy details (like getting a different car, for example) your per-mile rate stays exactly the same. 
If you want to pay upfront and get a refund for unused miles at the end of your policy, we simply refund all of them back to you at your per-mile rate. There's no complicated or vague maths to stop you understanding what your refund will actually be (like refunding a percentage of your premium if you drive under a set number of miles, for example). 
We set sensible limits.
Even lower mileage drivers need to make the occasional long trip. We don't charge for more than 150 miles in a day. Looking longer term, we cap charges at 10,000 miles a year.
We give a little extra.
It's great to be cheap. But you need to offer value too. Our cover is comprehensive but comes with extras a lot of others can't match. Our app has a bunch of features to make life easier: 
Car Medic: A handy tool that'll let you know about problems with your car. The same service at a garage can cost £50-£100. 
Find My Car: This feature has helped recover many stolen vehicles for our members. Again, an equivalent bit of tech could cost you around £X.
ULEZ (Ultra Low Emission Zone) reminders: No one likes being hit with late payment fees. So we give our members a heads up just then they need it.
No Claims Bonus (NCB) protection: We chuck this in as standard on all our policies.
Charging cable cover: If you're using our cover specially designed for electric vehicles, we'll cover charging accessories too. 
Free miles credit: We dish out free miles credit too. That can be as a reward for referrals, or sometimes just because we feel like it.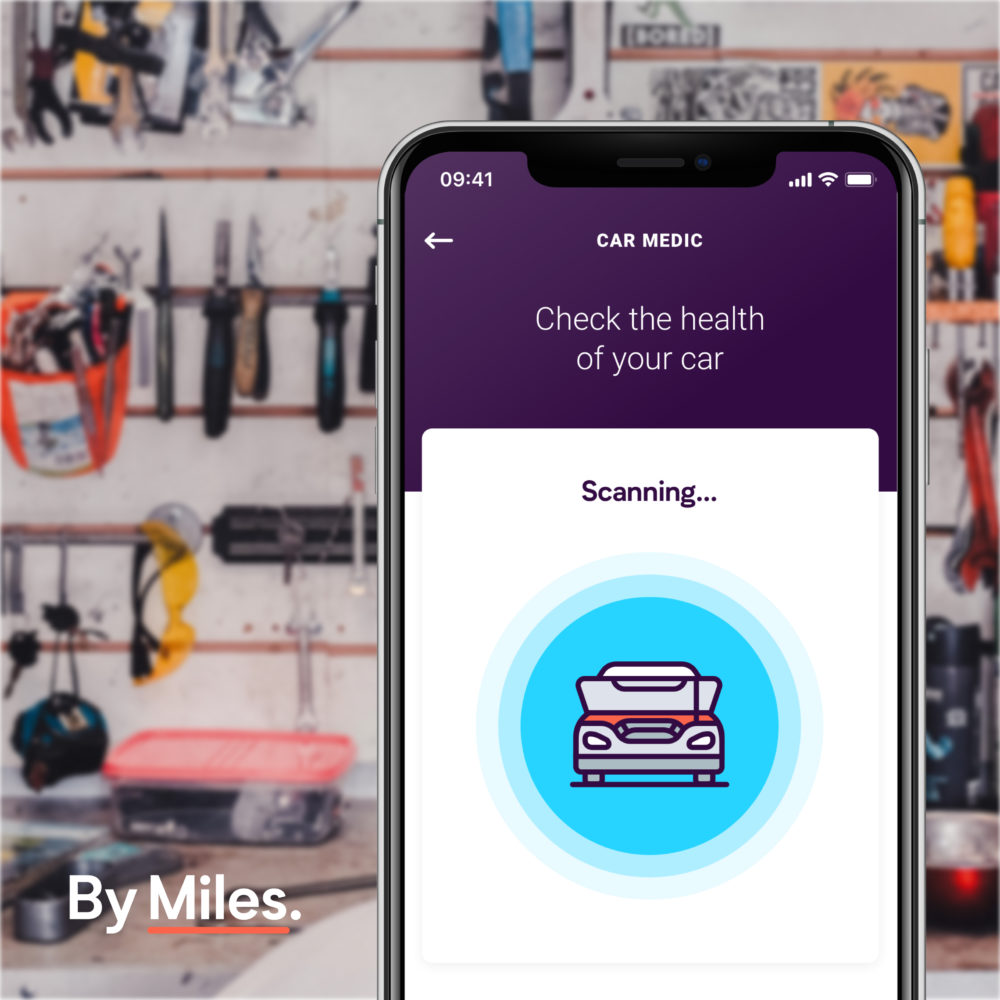 We've never been ones to punish loyalty.
In January 2022, new regulations ended the car insurance loyalty penalty (that's where insurers would whack up prices for renewing customers while offering newcomers much better deals). The new rules weren't a big deal for us because that was never our tactic. 
And because it was never our tactic, we didn't have to figure out a new strategy – which was nice. 
We embrace change.
Our app lets members make policy changes without having to call us. Better yet, there's no fee for the first three change made using the app.
If that sounds good, why not get a quote?
Our people.
It (hopefully) goes without saying that we couldn't offer a fair deal to all you wonderful people out there if you weren't doing the same for folks who make By Miles tick. Here's what we do to make sure that's the case.
We're fully flexible.
We're verified by Flexa as a fully flexible employer. Our policy is people should work from wherever works best for them – always. If that means coming into our West London office, great. If not, that's fine too. 
And because there's no requirement to come into the office, you don't have to live within commuting distance of London to work for By Miles. 
That means we can hire from all over the country, which makes it far more likely we'll find the best person for the role whenever there's an opportunity. It also adds an extra level of diversity to our culture, which is always welcome.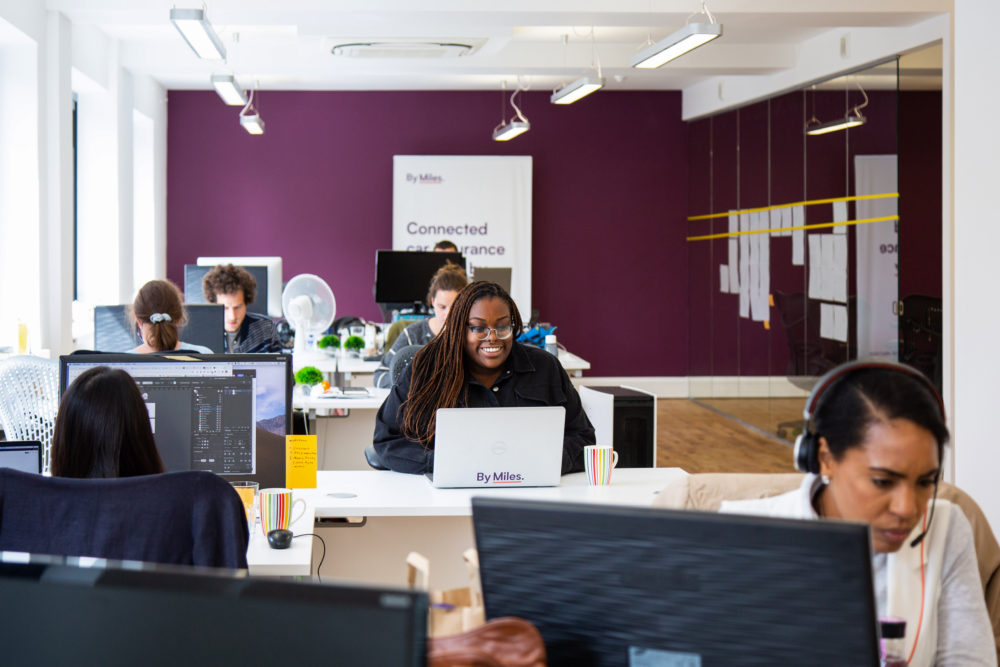 We're committed to wellness.
We take well-being seriously, but we're not prescriptive about it. After all, we're not doctors. Our people know better than anyone else what they need to be well, which is why we offer flexible benefits through Thanks Ben. Everyone at By Miles get's monthly allowance to put toward anything that they feel will improve their overall health (be that physical, mental, emotional or financial). 
Through Spill, any of us can anonymously book a session to talk privately with a counsellor about anything we have going on in our lives that might be troubling us.  
We offer room to grow. 
We also get £150.00 a year to put toward personal and professional development, which can be spent on anything any of us might feel they need to refine our skills – or even start learning totally new ones. 
One to one coaching sessions are also available with our in-house coach Helen McMillan, offering tailored advice on working towards our personal goals – whatever they might be. 
Once you've been at By Miles for three years, you can choose to take a sabbatical – an entire year dedicated to whatever feels important to you.
We're always listening.
Our virtues (which are wonderfully embodied by our virtue role models) guide everything we do. Part of their value is helping us create a space that values and respects different perspectives and where everybody feels safe enough to be authentic. 
We use anonymised surveys to make sure we know how people really feel about their experience of work. In our last engagement survey, 98% of people said they'd recommend By Miles as a great place to work. 
That doesn't mean we rest on our laurels though. We're always looking at how we can do even better in supporting the people who make By Miles what it is.