January is rough. It's got all the cold, damp and dark of December, but none of that festive sparkle…
Add in the pressure of a resolution and you've got the recipe for a pretty lame month. To save you some time (and inevitable gym membership cancellations) we've gone ahead and set you six doable driving goals for 2022.
This article was last updated on Friday 6th January 2022. Some of the information discussed may be subject to change. If in doubt on matters of road safety, please be sure to check the official Government advice here.
1. Look out for changes to the Highway Code.
Nothing will be finalised until February at the earliest, but the Highway Code is changing in 2022. And if you didn't know that was happening, well, you're not the only one. Apparently, two thirds of drivers are in the dark. So, let's shine some light on things.
The code will now include a 'hierarchy of road users'. In this new system, "those in charge of vehicles that can cause the greatest harm in the event of a collision bear the greatest responsibility to take care". Basically, the bigger your vehicle, the more careful you should be.
This idea is supposed to create a driving culture where everyone looks out for each other – not one where larger vehicles are always to blame any time anything goes wrong. So it's really more of a guideline than anything else. There are some more specific changes coming too, though:
Priorities at junctions: Cyclists will now have priority at junctions when travelling straight ahead. Drivers will also need to give way to pedestrians who are waiting to cross – not just those who are already crossing. 
Overtaking cyclists: There will be clearer rules on how much space to leave when passing a cyclist – at least 1.5m at 30mph or lower, and more at higher speeds.
The Dutch reach: The best invention to come out of the Netherlands since the stroopwafel, this method of opening your car door reduces the chances of hitting a passing cyclist. Using your left hand to open the right door (and vice versa) causes you to twist your body, so you naturally check your blindspot. Changes to the Highway Code may mean drivers and passengers are required to do this.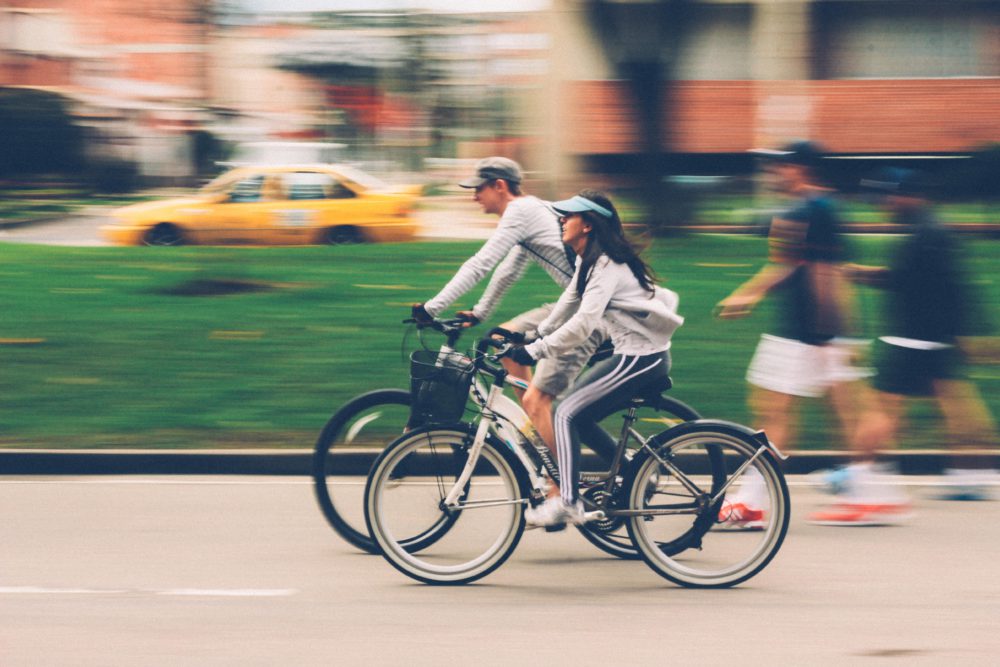 2. Don't touch that phone. At all.
Using a mobile while driving has always been a risky move. But depending on what you were doing, you could fiddle around on your device without breaking the law. Before only "interactive communications" (basically calls and texts) were actually banned. 
Of course, phones do a lot more than that. These days you can use them to scroll through playlists, play games, take photos or look up directions. If you're behind the wheel though, get a passenger to do that for you. Under the new rules, touching your phone for any of those reasons while driving could earn you a £200 fine and six penalty points. 
You can still use your device hands free, or to make payments for things like toll booths. But from mid-January 2022, that's about it. 
3. Keep off the pavement.
Mounting the kerb to park can feel like a considerate thing to do, especially on narrow roads. But it makes life harder for pedestrians. In fact, for wheelchairs users, it can make the streets unusable. Pavement parking is already illegal in London and will be banned in Scotland from 2023. No final decisions have been reached yet, but it looks like councils in England and Wales could soon be able to fine drivers for parking on the kerb unnecessarily. 
4. Be CAZ-ready.
London's Ultra Low Emission Zone (ULEZ) has been around for a while now. (If you're a By Miles member you may even have used our handy app feature to avoid ULEZ fines). 
Recently, many other cities have introduced Clean Air Zones (CAZs) of their own. In 2022, this list will expand to include: 
This will mean you may have to pay a fee to drive through some parts of the city. The start dates, rules and charges that will apply vary from place to place. In some cases, charges will only apply to certain vehicles. This might depend on the type of vehicle, what it's being used for (some cities won't be charging private cars) and how polluting it is. Many zones will also have a nice long grace period before enforcement actually begins. It's best to be prepared though – so if you'll be driving through any of them a lot, use the links above to find out more. 
5. Find an insurer who treats you right…
This year, new rules have come in to end the 'loyalty penalty'. Until now, many traditional car insurers (that's not us, by the way) have saved their best deals for new customers while bumping up prices for loyal ones. That's all over. 
This is a big shakeup. Before, if you wanted a good deal from one of the big companies, you had to accept the hassle of switching every single year. That meant not many people were thinking of their insurance choice as a long-term commitment. 
Now, staying put may make a lot more sense than it did before. You might even be thinking about finding that ideal insurer you can see yourself settling down with. If so, make sure you're getting valuable extras and great service, as well as a competitive quote. 
6. …And while you're at it, consider pay-by-mile car insurance.
It's impossible to say what's around the corner, but it may well be that you find yourself driving less than usual this year. Lockdowns and the rise of home working saw the average UK driver's mileage fall by 21.3% in 2020. If things have changed in your world and you've recently become a lower mileage driver (someone doing around 150 miles a week or less) it might be worth rethinking how you insure your car. 
With a pay-by-mile policy from By Miles, the less you drive, the less you pay. So, why not get a quote and see if you could save?