Unlike the careful drivers we cover, time moves much faster than you'd think. It's strange to think that it's already half a decade since we took our first steps to making pay-by-mile car insurance a reality. 
A lot's happened since then. So we thought we'd take a little stroll down memory lane (hey, why use the car when you don't have to?). 
It goes without saying that, whatever awards and milestones we've clocked up along the way, the best part of this journey has been helping our members unlock a fairer form of car insurance. 
We're grateful to all of you who've trusted us to help them save money – and look forward to taking things even further over the next 5 years. With 74% of people now low-mileage drivers – and saving feeling more important than ever – we look forward to helping the nation take control of their insurance costs. 
So, let's begin at the beginning. 
2018.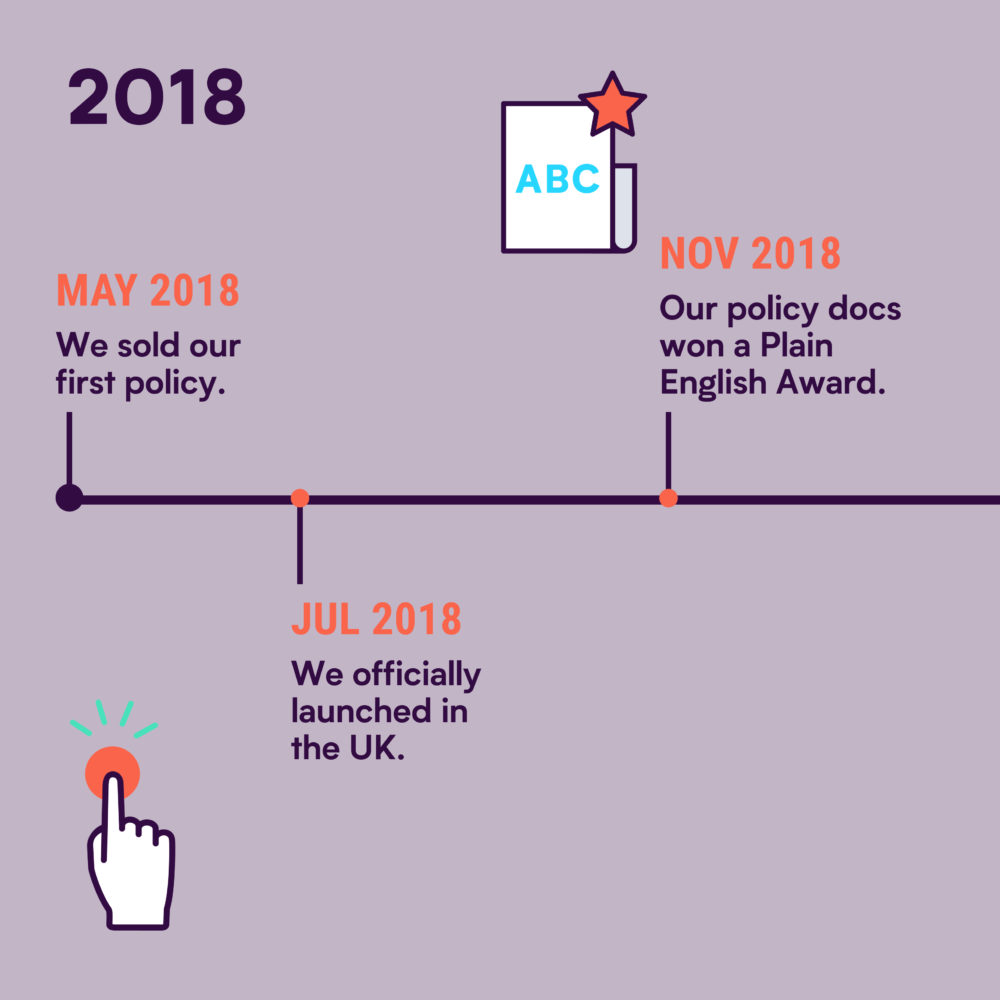 Our founders, James and Callum had been quietly working on their idea for a new way of doing car insurance for a while by this point. Breaking into any industry is tough – especially one where not has changed over the years. But by July, By Miles officially launched in the UK. 
And it wasn't just our fresh approach to pricing that grabbed attention. Our dislike for jargon meant our policy documents weren't filled with the usual insurance-y waffle. Thanks to that, we won ourselves a Plain English award. We've been telling it straight ever since.
2019.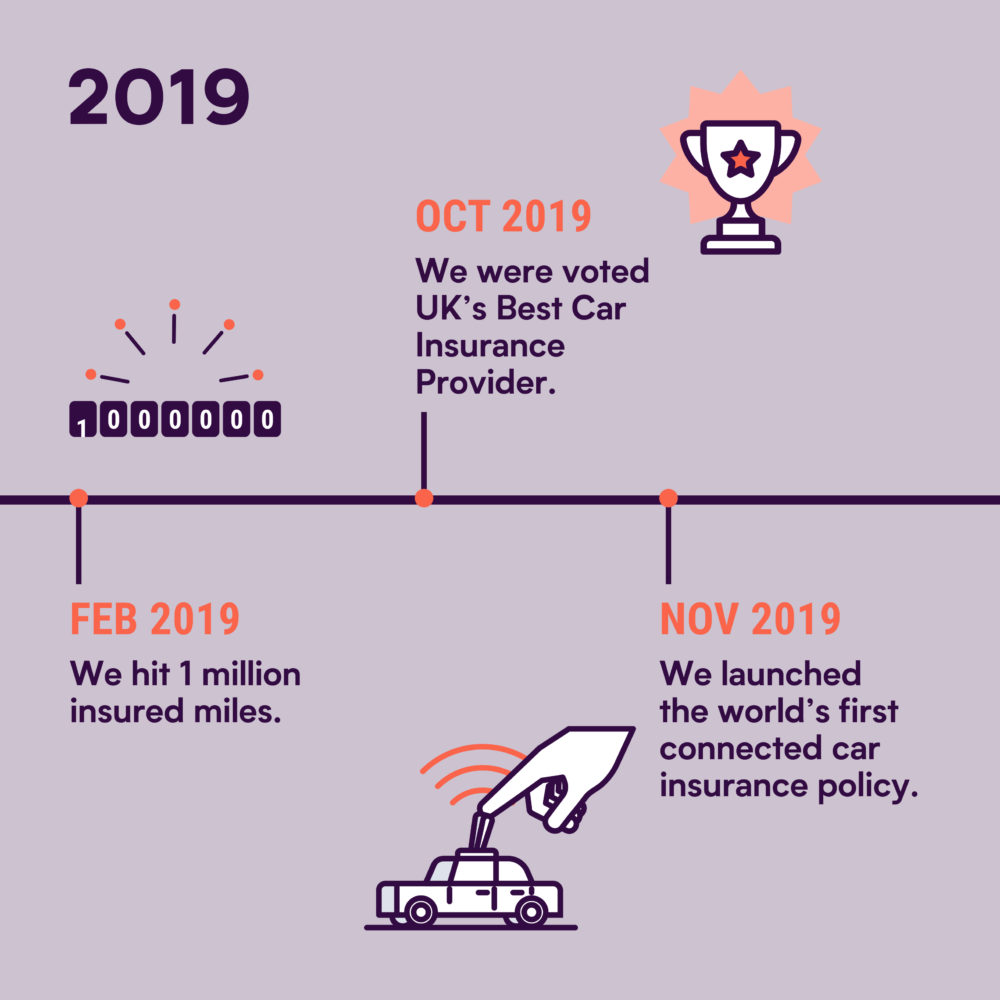 Things rapidly started picking up pace. By February we'd insured over 1,000,000 miles of driving. Then, a little over a year after our launch, we were voted the UK's Best Car Insurance Provider. (Spoiler alert: it wasn't the last time that'd happen). 
By the end of the year we'd launched the world's first connected car policy – allowing drivers to share mileage data with us directly from their vehicle without any need for a Miles Tracker. 
2020.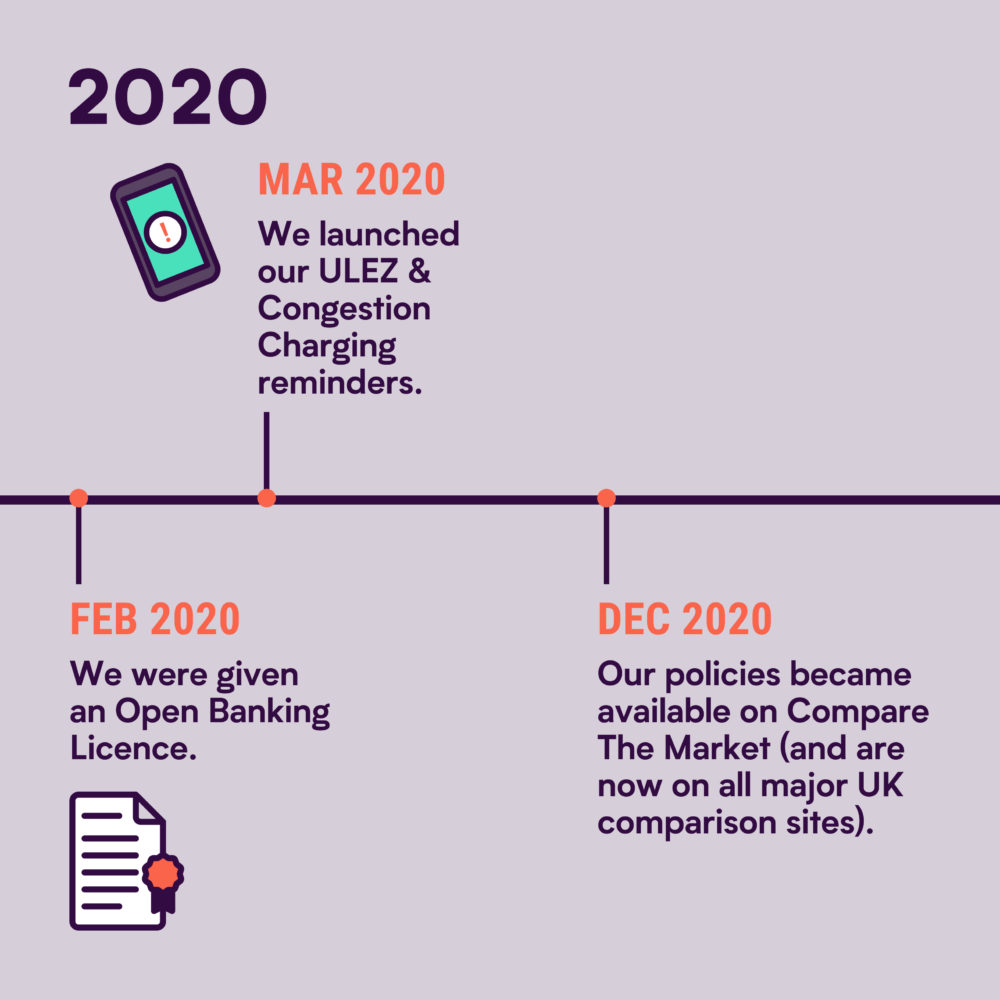 To this day, we're always working to make sure our app is useful for members each and every day. (The way we see it, you should be getting value from your insurance provider all the time – not just if you claim.) So in 2020 we launched of ULEZ reminders feature – which has now been updated to include other Clean Air Zones. 
As well as retaining our title of UK's Best Car Insurance Provider, we also began to appear on price comparison sites for the first time. Today, we're across them all. (If you're a lower mileage driver, chances are you've seen us).
2021.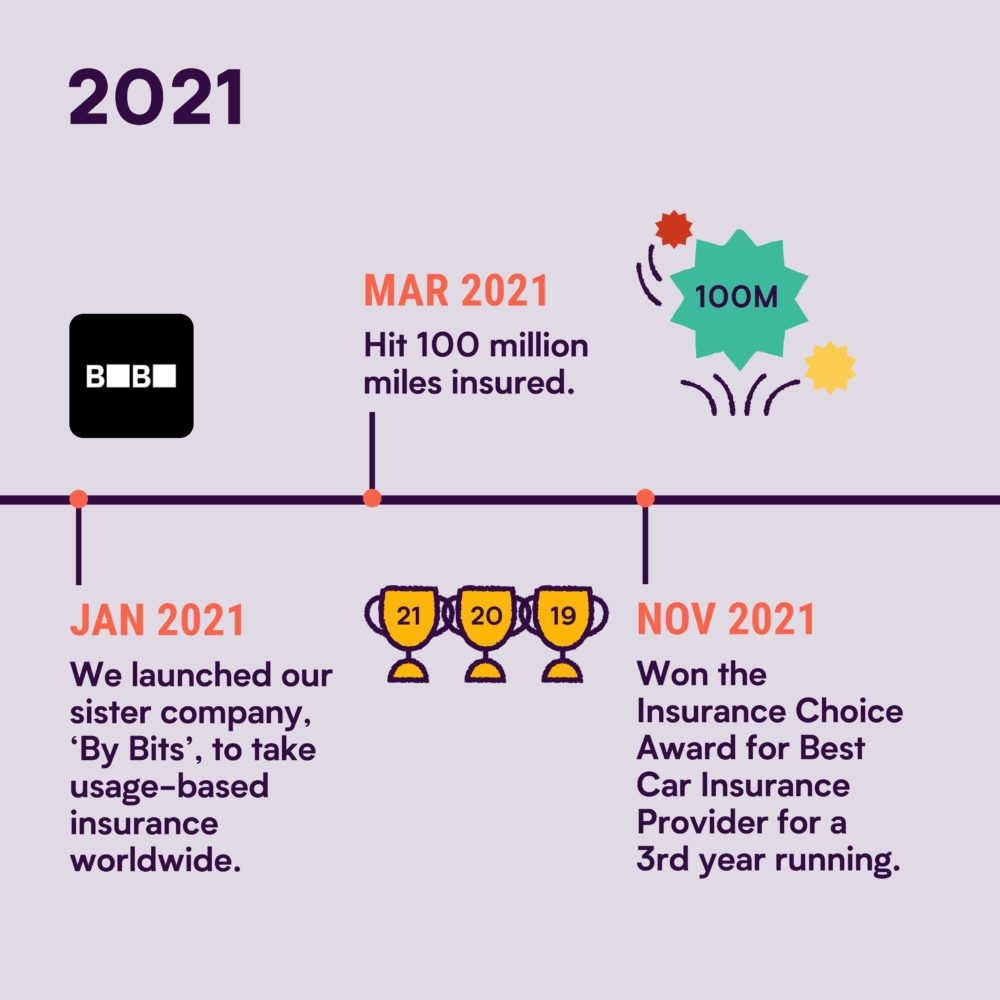 Having insured our first million miles of driving in 2019, in 2021 we hit the 100 million mark. (We don't usually encourage that kind of acceleration, by the way). 
Our sister company, By Bits, launched – allowing us to bring the pay-by-mile model to new markets. Oh, and we bagged our 3rd Best Car Insurance Provider of the Year award. 
2022.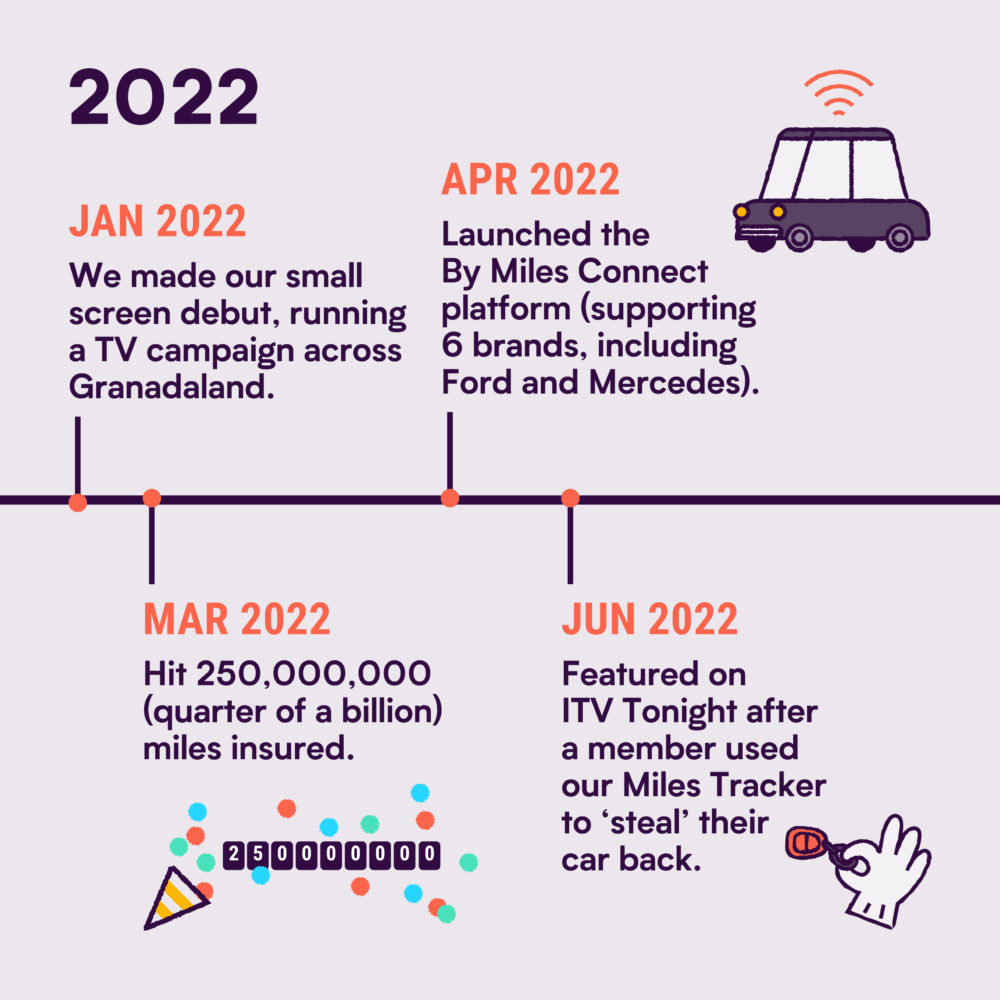 We made the leap up to a quarter of a billion (with a 'b'!) miles insured. Our Connect platform expanded to support cars from a range of manufacturers, putting us in a position to help smart car owners get more from their vehicles. 
We also graced national TV for the first time, appearing on ITV after one of our members used the our Find My Car feature to recover their stolen car (one of a huge number of folks who've thwarted thieves with our help). 
2023.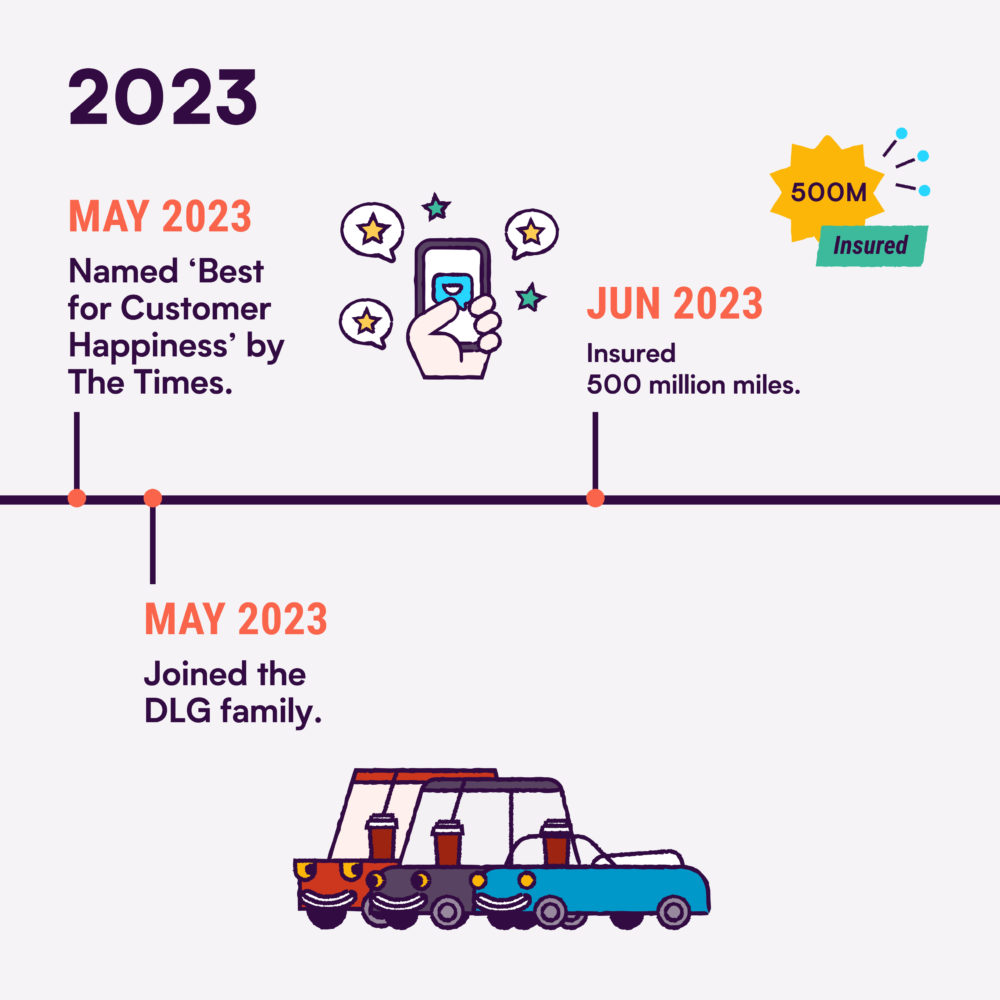 Even with the UK's average mileage on a downward trend, we managed to hit the landmark of half a billion miles insured. Along the way, we were ranked as the best car insurance provider for customer happiness by The Times, and welcomed into the Direct Line Group family. 
With their support, we'll be able to keep building on the good work we've been doing – and help more people take control of their car insurance costs.  
Get a Quick Quote here: