We were delighted (and a little bit surprised given that we haven't actually launched yet) to be announced as a finalist for the Insurance Choice Awards 2017 as one of their top five Innovations of the Year. Thanks very much to anyone that voted so far, but we still need your help to win it.

A vote only takes a matter of moments, and as we're in the Innovation of the Year category they want to know what you think of the product. If you took part in our trial, do let them know how you found the experience or the customer service you received. If you haven't tried us out yet but can't wait for us to launch then explain why you like the idea of the pay-per-mile revolution. Just click here, write a short review and click submit. You will need to pop in your email address for your vote to count.
This award is decided purely on the votes of the British public, so every single one makes a massive difference. Winning this award could really help us to prove that UK drivers like what we're doing and help get us closer to launch. Oh, and did we mention there's a chance to win £1,000 just by taking part?
A bit more about the insurance awards
Run by Smart Money People, the Insurance Choice Awards were set up to find the most customer-centric insurers in the UK. Obviously this resonates very strongly with us as we're trying to build a product that fits around the lives of our customers and makes their driving lives easier.
The Insurance Choice Awards are fast becoming a go-to reference for consumers looking for great insurance products and customer service. Over two million UK consumers are expected to come across these awards in 2017. Mike Fotis, Founder of Smart Money People said:
"We set-up the Insurance Choice Awards to help UK consumers find the very best insurers in the market. The standard this year has been particularly high, and so I'd like to congratulate By Miles on being named a finalist."
Voting for finalists continues until midnight on Sunday 1st October, and we'll find out if we're a winner at the awards event on the 12th October. Wish us luck!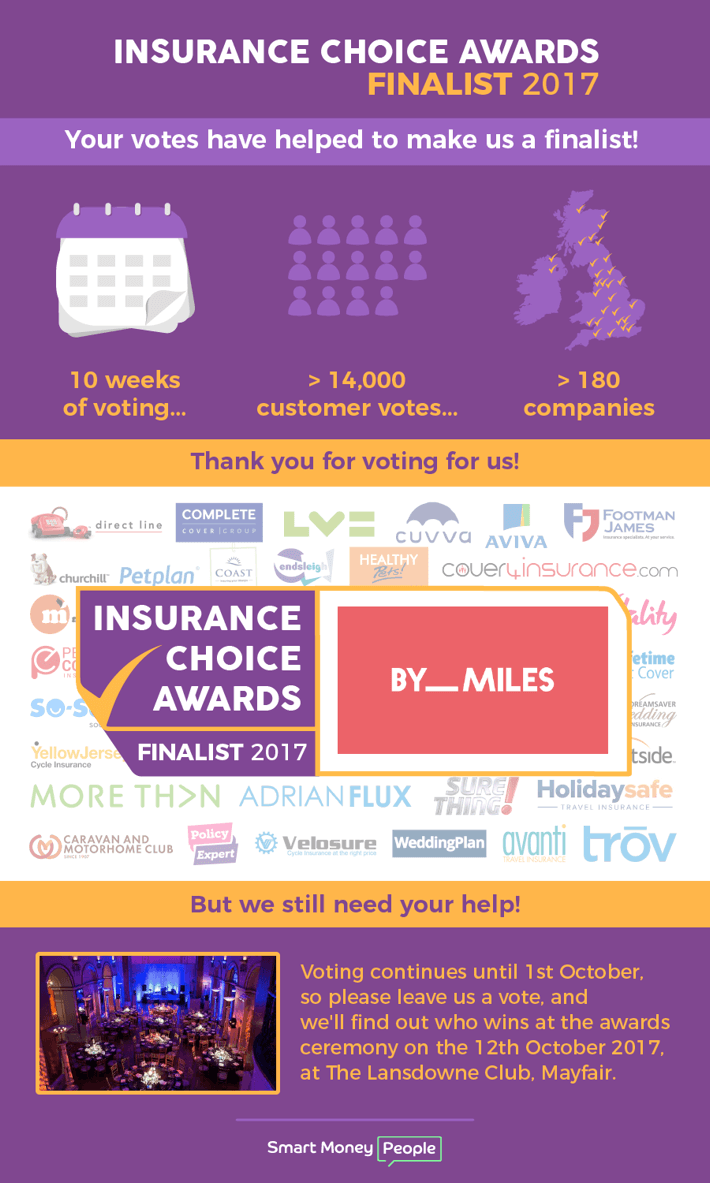 Also see… We won at the Insurance Choice Awards!